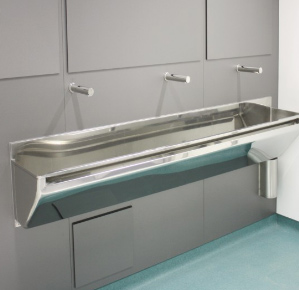 Hectra offered operating room Surgical Scrub Sink are made with superior quality material and advanced technology. These sink are developed in line with the listed parameters of quality to ensure their high-standards. Keeping in mind divergent demands of the clients, we offer these sinks are in different sizes and design.
HECTRA ENVIRO SYSTEMS  leading Surgical Scrub Sink Manufacturer,Supplier, Exporter,Hyderabad,India.
Special Features :
1 bay, 2 bay and 3 bay are standard variety.
Choice of Elbow Operated , Electrically Knee Operated Sensor Operated.
Cock will be shower type for through cleansing.
Electrically or sensor operated shower cock will have elbow operated shower for emergency use.
Fitted with antiseptic dispenser & a soap dish Surgeons Control panels.
---