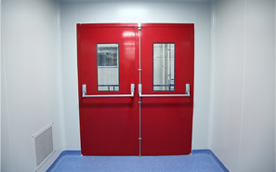 Hectra Enviro Systems is the leading Modular Clean Room Doors manufacturer  in Hyderabad, India. Modular Clean Room Doors satisfy the most stringent requirements for environmental controls while satisfying entrapment and egress requirements for all building code standards. Please visit the product pages through the links below to learn more about our doors that are specifically designed for the demanding requirements of clean rooms. From impact traffic doors to sliding doors to fiberglass doors, we know and understand the importance of specifying the right Clean room door that is why we have field representatives strategically located for on-site assistance in identifying the right door system for the specific application. we are Clean room doors manufacturers,suppliers and exporters in Hyderabad,India.Unless you have power-assisted doors, all doors should open into the room with the higher pressure. Double-leafed doors are known for causing the pressure differential balancing of rooms to drift off as the door springs gradually weaken and the doors leak air between rooms at levels outside of the design parameters.
The Clean Room Doors offered by us are highly durable. These doors are available in custom and standard models. Hectra doors can be customized in different models as per client specifications and requirements.
HECTRA OFFERS THE FOLLOWING TYPES OF DOORS :
GI powder coated Metal Doors
Stainless Steel (SS) Doors
High Pressure laminated Doors
Swing/Automatic/ Semi-automatic/Sliding Doors
Fire Proof Doors.
SPECIAL FEATURES :
Highly durable and smooth functioning.
Attractive designer outlook.
Easily cleanable.
Safety assured.
Doors hardware from reputed brand companies.
Compatible with Door Interlocking systems.
Available in Standard and custom made.
Suited to all the clean room industry.


FOCUSED INDUSTRY :

Pharmaceuticals.
Biotechnology.
Hospitals.
Food Industry.
Electronics industry.
 Modular Clean Room Doors Specifications
Single leaf and double leaf frames.
Removable over panels.
Borrowed light and glazing can be provided.
Finishing in primer or epoxy polyester powder paint.
The ability to accept glazing in many configurations with louvers, air vents, and a wide range of hardware.
---