Clean Room Ceiling – Our state-of-the-art systems help tight-tolerance temperature and humidity-controlled environments conform with the latest government and industry standards. After ceiling blanks, light fixtures, and filters are installed in the grid, a secure, airtight barrier is formed against dust and moisture for sensitive clean room needs.
Cleanroom Ceiling Grids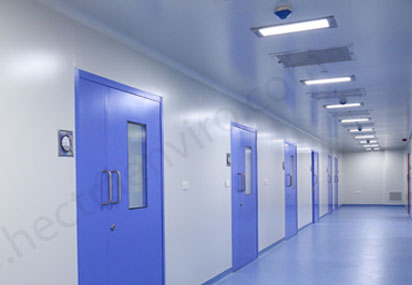 2″ Gasket Grid
The 2″ Gasket-Seal clean room ceiling grid combines flexibility with simplicity to meet the ever-changing needs of the technology industries. This grid system offers the complete versatility of non-progressive construction required in most clean rooms. It is a functional stick-built system that provides a 2″ wide structural grid system with aluminum extrusions and zinc die castings to receive standard filter modules, light fixtures and blank ceiling tiles. Truly an engineered system for ease of installation, the system can be used in 2 x 2, 2 x 4, 4 x 4 and custom layouts.
1-1/2″ Gasket Grid
The 1-½" Gasket Grid clean room ceiling grid is the perfect solutions for diverse applications including semiconductor, microelectronics, aerospace, food service, food processing, pharmaceutical, and hospital industries. The gasketed grid is designed with a 1-½" face tee to support HEPA filter systems and light fixtures. Installation is simplified with a clip assembly requiring no special tools for the attachment of grid components. Choose from a wide selection of module sizes such as 2'x 2′, 2'x 4′, or 4'x 4′. CG systems are available in powder coat white and clear anodized finish.
T-Grid Systems are in stock, ready for immediate delivery. Our 2″ Heavy-Duty, Walkable, and Gel Seal Style suspension hardware is interchangeable, providing easy adjustment for installing the ceiling dead level.
Cleanroom Light Fixtures are sealed fixtures made especially for cleanrooms. Our lights allow re-lamping and ballast removal from roomside without contaminating clean areas.
Teardrop Lights have a narrow airfoil design to minimize turbulence in cleanrooms requiring a unidirectional air flow, and can be easily mounted on 2″ T-Bar.
Flow-Through Light Troffers accept a SAM® Filter Unit on the top and allow HEPA or ULPA filtered air to flow through the fixture and into the clean room.
Cleanguard Cleanroom Ceiling Panels feature factory-sealed edges and a white vinyl face.
---
Clean Room Ceiling Tiles
Pharma System cleanroom ceiling panels create a flush ceiling system that provides end users and owners with the ability to utilize the area above the cleanroom for mechanical services or walk-on capabilities for maintenance access when applicable.
The Pharma System cleanroom ceiling panel is a 2″ thick composite panel using a steel skin on both sides of an aluminum honeycomb core. Available with a variety of coatings and finishes, the steel facings are designed to form tight, straight-line joints between adjoining panels and beams. All cleanroom ceiling panels are Class A, non-combustible.
The use of walk-able ceilings for access can minimize the need for catwalks above the clean room areas, reducing steel costs and installation time. The use of catwalks can then be limited to areas where equipment access is needed for maintenance or replacement of larger pieces of equipment (AHU motors, cooling coils, heat exchangers, etc.)