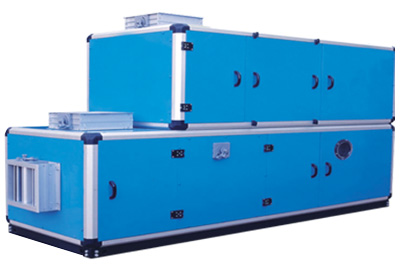 Air Handling Unit (AHU) is a machine used to circulate air as part of a heating, ventilating, and air-conditioning system. An Air Handling Unit is usually a large metal box containing a blower along with motor arrangement, cooling and heating coils, different types of filter chambers, and volume control dampers. Hectra is the best Air Handling Unit manufacturers in India.Air handlers usually connect to duct distribution system that distributes the conditioned air through the building and returns it to the AHU.
HECTRA offers wide range of Air handling units suitable for clean Rooms and comfort applications. Air handling units are available in both standard and custom designs. Hectra offers thermal and non thermal brake air handling units. The Air handling units are available with panel thickness of 50mm and 25mm as per the requirements of the client. Hectra Enviro Systems is the leading Air Handling Unit Manufacturers in Hyderabad,India.
AHU cooling coils are available in Chilled Water and DX models.Our cooling coils are most efficient for different cooling applications.
Features :
The anodized aluminium sections are corrosion free from multiple environments. Aluminium profiles available in thermal brake and non-thermal brake.
The infill material of panels is polyurethane foam up to 38+- 2 kg/cum densities. This will give you
low heat transfer rate from atmosphere to AHU inside conditioned air. So that power consumption will go down.
Cooling and Heating coils material of construction is copper. This coil withstand for long run
Available in 50mm and 25mm thick panel construction
Hectra Offer Wide Range Of Air Handling Units :
Floor mounded Air Handling units
Ceiling suspended Air Handling units
Double skin air handling units
Single skin air handling units
Re circulation Air Handling units
Ventilation Air Handling units
Heat recovery ventilator (HRV) Air Handling units
---