Hectra Enviro Systems offers a wide variety of Sampling Booths. We are the leading Sampling Booth manufacturer for pharmaceuticals in Hyderabad, India. Hectra has an in-house facility that manufactures,supplies and exports Sampling Booths. Our designs have open front containment systems with built-in scavenging arrangement. This unit is designed and made with stainless steel for providing safety to the operator and the surrounding environment.
It draws Powder aerosols away from the operator and the operating environment, protecting products and personnel ensuring 100% cleanliness. These workstations provide clean Class 100 laminar flow air for process protection by using a two-stage filtration process. The room air is first cleaned with an electrostatically charged pre-filter and then further cleaned with a HEPA filter to facilitate a laminar air flows circulation system.
HECTRA is the market leader and manufacturer of sampling booths. We are the manufacturer,supplier,Exporter in Hyderabad ,India. We have state of art facility for the manufacture of sampling and dispensing booths.
Sampling Booth Specifications
Cleanliness : Class 100
Particle retention : 0.3 micron
Standard :FED 209E
Velocity : 100FPM + 20%
Illumination : 4 ft. 40w with diffuser
Noise level : 60-65 decibels
Nozzles : Adjustable SS
Power supply : 220v single phase.
Three stage filtration systems.
Main Components:
 Pre-filters             –    10 Micron 
 Intermediate Filter—-3 Micron
 HEPA Filter ————-0.3 Micron
 Statically & Dynamically balanced blowers with isolator to reduce noise level
 Fluorescent Lights with Milky White Diffuser
 Differential Pressure Gauges for Pre,Intermediate,HEPA filters.
Blower, CFL,UV Light ON/OFF Switches.
DOP/PAO ports for HEPA Filter Integrity.
Power sockets 6/16Amps Power Sockets.

Optional Accessories

Flameproof electrical components for Bulk drug industry.
PVC strip curtains in the front part.
Velocity sensors.
variable frequency drives for velocity control.
HEPA filter pressure indicators for replacement signals.
Stainless steel platform for weighing
Features:
Cross contamination free.
Easily cleanable.
Easy replacement of Filters.
Robust in construction.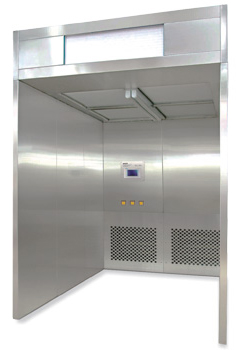 ---