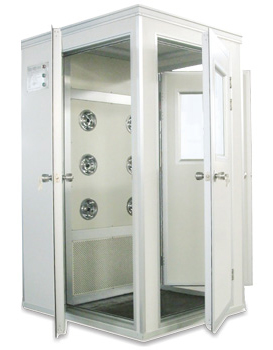 HECTRA Air Shower  plays a vital role in removing surface particles from personnel and material prior to entering and exiting from a controlled environmental area. These Air Showers are installed before the entrance to clean room and other controlled environments perfectly suitable for semiconductors, pharmaceuticals, spray painting, microelectronics, paint shop and packaging etc. Hectra Enviro Systems is the Air Shower Manufacturer,Supplier&Exporter in Hyderabad,India.
Air showers are specialized antechambers which personnel must pass through before entering clean rooms in order to decontaminate. Decontamination is done by clearing off dust and dirt particles from bodies of clean room personnel to minimize contamination of equipment or products.
Designs to an air shower unit include single-side shower, double-side shower, three-side shower, and top shower. Spraying wind speed is around 25 m/s or above through stainless steel nozzles. HEPA filters are generally used to filter out particles greater than 0.3 micrometers in size from the  shower.
Air showers are considered essential equipment in fields where sterile or dust-free conditions are critical, such as life science and biomedical research, pharmaceutical, parenteral drug, microelectronics, aerospace and some precision manufacturing.
Hectra Air Shower walls  made of SS304/GI  Sheet. The blower cabinet shall contain a removable high-pressure interior nozzle wall panel for convenient cleaning and servicing. There shall be adjustable anodized aluminum nozzles on each high-pressure interior nozzle wall panel. The pressure wall section shall have  adjustable anodized aluminum nozzles.
Clean Room Equipment manufacturer in Hyderabad, India
Our well-designed air showers are also suitable IVF labs in hospitals.
Air Shower Manufacturer,Supplier&Exporter  in India.
Available Models:
1.Stainless Steel
2.GI Powder Coated
Features :
Completely self-contained, adjustable nozzles to remove surface contaminants.
Versatile design allows you position the Air Shower inside or outside the clean Room.
Dual HEPA filters remove 99.99% of particles > 0.3 microns from the air stream.
Emergency stop buttons on both doors immediately disengage interlocks and halt air shower.
Light weight and modular design enable.
Easy shipping and transfer of the unit.
High-efficiency  Centrifugal Blowers.
Adjustable Air nozzles .
---