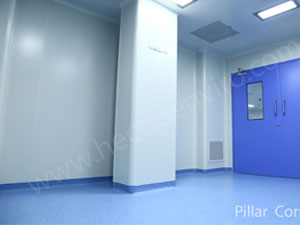 Our range of Modular Operating Room Panels are suitable for super specialty & general operating rooms. We are offer different types of modular paneling systems with infill material of Poly Urathene foam(PUF).For Modular Operating Room Panels, we provide specially designed aluminium powder coated / Anodized Covings, PVC Coving ,90 & 180 degree bends & Room Corner Pieces for easy cleaning at sharp edges. Each and every component of the structure is engineered & developed for easy installations. The technology we implement is durable at quality & economical at cost.
Hectra range of Modular panels :
GI Powder Coated Panels.
High Laminates Panels.
Stainless Steel Panels.
Modular Operating Room Panels Special Features
Highly durable.
Excellent moisture, Corrosion & Fungus resistant.
Installation time is low.
Low thermal conductivity. so that air conditioning operating cost will go down.
Lowest life cycle cost.
---