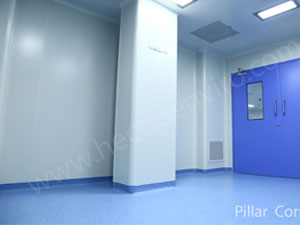 Our range of Modular Operating Room Panels are suitable for super specialty & general operating rooms. We are offering different type of modular paneling systems with infill material of Poly Urathene foam(PUF),For Modular Operating Room Panels, we are providing specially designed aluminium powder coated / Anodized Covings, PVC Coving ,90 & 180 degree bends & Room Corner Pieces for easy cleaning at sharp edge. Each and every component of the structure is engineered & developed easy installations. The technology we implement is durable at quality & economical at cost.
Hectra range of Modular panels :
GI Powder Coated Panels.
High Laminates Panels.
Stainless Steel Panels.
Modular Operating Room Panels Special Features
Highly durable.
Excellent moisture, Corrosion & Fungus resistant.
Installation time is low.
Low thermal conductivity. so that air conditioning operating cost will go down.
Lowest life cycle cost.
---