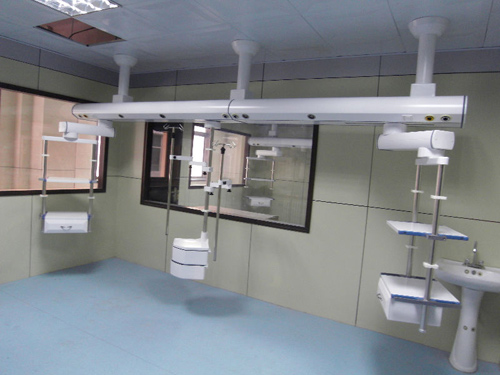 Our Ceiling pendants cater an integrated platform for surgical, Monitoring equipment for Doctors and medical staff in Operation theatre for great practical utility. These pendants are designed to rotate flexibly as per Doctor's / staff requirement.
Model available
Rigid Pendants.
Single arm/Dual arm pendant.
Ceiling Pendants Features
Cross Arm and Control box are moulded from high strength Aluminum and the surface is oxidized for durability.
Cross arm's rotation and height adjustment are controlled by imported electric motor. Rotation is flexible and free.
Pneumatic brakes and mechanical brakes provide firm and accurate locking position.
Power supply, Gas pipeline and communication lines arranged separately in one set.
360 degree rotatable.
Basic configuration :
One Gas terminal for compressed air, oxygen, suction, nitrous oxide and anaesthetic gas.
Four power outlets.
Two network outlets.
We will supply Standard and custom made Operating room Pendants.
---