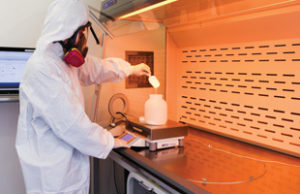 Modular Lab Table – Laboratory tables are modular type. The modules will be designed in such a way that the modules can be dismantled very easily in case of maintenance if required.
The under storage modules will be independent and entire load on the work surface will be sustained by the 'C' frame / Pedestal frame / Base Frame and not on the storage modules. Under bench storage modules will have drawer and bottom cupboard and front open shutter.
The drawer and cupboards will have necessary locking arrangements. Components to be powder coated is pre-treated using seven tank processor, to ensure that the substrate is clean and free from grease, rust. Powder coating thickness is 80 micron. instrument tables.
MATERIAL OF CONSTRUCTION
ELECTRO-GALVANIZED (G.I) SHEET (18 SWG/20 SWG/22 SWG)
STAINLESS STEEL ( SS 304/316)
EACH MODULE SIZE OF 750 MM OR 600 MM OR 500 MM CAN BE OFFERED BASED ON REQUIREMENT AND ROOM SIZE / LAYOUT. TABLE LENGTH CAN BE IN MULTIPLE OF THE ABOVE MODULE LENGTH. STANDARD WORKING HEIGHT WILL BE 900 MM / 750 MM WITH NORMAL WIDTH OF 750 MM. STANDARD COLORS OF WATER BLUE WITH IVORY, OR ANY OTHER COMBINATION CAN BE OFFERED.
---